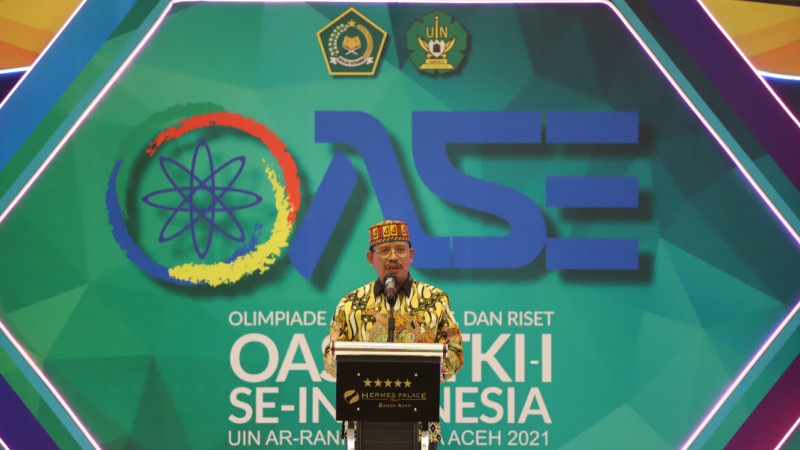 Aceh (Pendis)--The opening of the Olympic Religion, Science, and Research (OASE) Islamic Higher Education (PTKI)-I today was officially opened by the Director of Islamic Higher Education Suyitno. It is marked by the beat of Rapai.
In his remarks, the Director said that the holding of OASE would like to convey a new nickname for the people of Aceh.
"We know that Aceh is not only known as the Foyer of Mecca, we also want to give it a new title as the Foyer of Knowledge," he said.
The director also said that "great scholars with all their talents were born, develop and spread their knowledge here," he explained.
"Who doesn't know Sheikh Hamzah Al Fansuri, Sheikh Nuruddin Al-Raniri, Sheikh Abdurrauf as-Singkili, they were great figures of their time in the field of tasawuf. Sufis, fiqh and interpretation (tafsir)," he explained
He also hopes that the holding of the PTKI-I OASE with the theme "Integration of Religion - Science for Nationality and Humanity", becomes a reference for the next OASE and becomes a reference in the field of science.
"This year's first OASE started from UIN Ar-Raniry Banda Aceh, we hope to be a reference for the next holding and Aceh to become a mecca/centre of knowledge," he hoped.
Previously, the Chairperson of the Committee, Saifullah, said that the 2021 OASE activities took place online since the end of October 2021 which was attended by 2,955 PTKI students, public and private. The Preliminary Round was held on 23 - 29 October 2021. The Semi-final stage was running from 6th to 13th of November 2021. The final will be held on 25-28 November 2021 through hybrid, online and offline and centred at UIN Ar-Raniry, Aceh.
Separately, the Chancellor of IAIN Padangsidimpuan who participated in the virtual opening of the OASE through the Vice Chancellor for Student Affairs and Cooperation Sumper Mulia Harahap said that this OASE activity negated and assured the existence of PTKI students.
"The ability to explore exact sciences by PTKI students is getting more and more prominent. Even not only at that level, PTKI students are required and expected to be able to integrate general sciences and religious sciences," he said.
The Chair of the Deputy Chancellor/Chairman of the Student Affairs and Cooperation Affairs Forum throughout Indonesia hopes that the IAIN Padangsidimpuan contingent at the PTKI-I OASE event can provide maximum and best results.
"Congratulations to IAIN Padangsidimpuan students who are the finalists and PTKI students throughout Indonesia, congratulations to PTKI institutions throughout Indonesia, and our thanks to the Ministry of Religious Affairs and UIN Ar-Raniry that has fully facilitated this activity, hopefully it will be successful," he concluded.
---