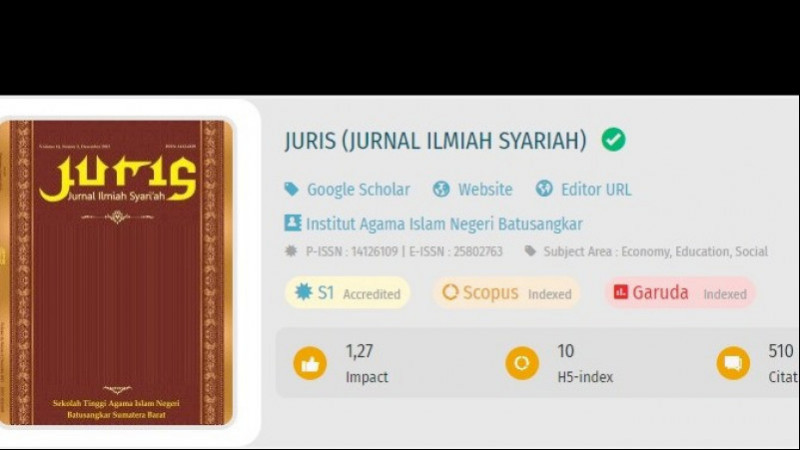 Batusangkar (Pendis)---The State Islamic University (UIN) Mahmud Yunus Batusangkar, which recently changed its status through Presidential Decree No. 84 of 2022, dated June 8th, 2022, has continuously established itself as an Islamic Science Campus, Minangkabau Surau Reflection which is integrative and interconnected in Science and has global reputation.
Now it is the turn of the Sharia Scientific Journal (Juris) of the Sharia Faculty of UIN Mahmud Yunus Batusangkar which has been indexed by Scopus which was released on June 26th, 2022.
Juris publishes research articles in the field of Sharia. The articles published are research results and books reviews by academics, researchers and practitioners in the field of sharia. Thus, JURIS limits its scope to Sharia or Islamic Law: Islamic Family Law, Islamic Economic Law, Islamic Constitutional Law, Islamic Criminal Law, and other Islamic Laws.
Chancellor of UIN Mahmud Yunus Batusangkar, Marjoni Imamora appreciated the Scopus indexed JURIS achievement. "On behalf of the Chancellor, I would like to thank the Editor in Chief, Editors, Reviewers and the IT Team who have worked hard to fulfil the wishes of the UIN Mahmud Yunus Batusangkar academic community who miss the presence of a reputable international journal indexed by Scopus," said Prof. Marjoni Imamora.
Then, Prof. Dr. Marjoni explained that this was also in line with the professor's acceleration program which was the 2020-2024 period Chancellor's priority program for the. "The availability of Scopus indexed journals as a forum for the realisation of lecturers' great dreams to become Professors.
In this occasion, I would like to thank the Director General of Islamic Education, Director of Islamic Higher Education, and Head of Sub-Directorate for Research, for the support and enthusiasm that has always been given to us to continue to improve the quality of journals at State Islamic Higher Education (PTKIN).
I also thank the entire extended family of UIN Mahmud Yunus Batusangkar for all the prayers and solidarity to advance our beloved campus. Hopefully, this achievement will elicit the birth of other journals leading to reputable international journals for us to present to UIN Mahmud Yunus Batusangkar, in particular and to all PTKIN in general," said Marjoni.
Meanwhile, the Editor in Chief of JURIS, Zainuddin, said that JURIS had been published since 2002 by STAIN Batusangkar, and in 2017 applied for accreditation with the acquisition of a Sinta 4th. In 2021, JURIS received a Sinta 2nd. While waiting for the result of Sinta 2 accreditation and fulfil one of the five directions of the Chancellor's policy, namely the availability of internationally reputed journals, the Management Team submitted JURIS to Scopus which was submitted in March 2022.
Furthermore, Zainuddin, said that the indexing of JURIS in Scopus was an extraordinary achievement for the JURIS Manager, the Sharia Faculty, and UIN Mahmud Yunus Batusangkar, as well as being the most beautiful gift presented to UIN Mahmud Yunus Batusangkar which had just changed status.
---